Imagine your NEW RELATIONSHIP ECONOMY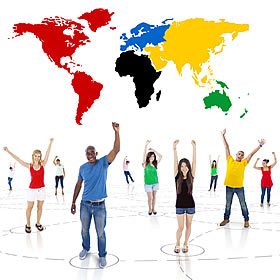 Have you ever wondered how to truly leverage today's amazing technologies to create and nurture strong relationships? How you may benefit from a virtual strategy? How a solid Management 2.0 strategy benefits your organization?
While the first Internet generation passively offered a space to inform others, the second generation of Internet emphasized the active sharing and interchanging of information (e.g., Facebook, LinkedIn, Twitter, blogs, YouTube, etc.). More specifically, the "Knowledge Economy" of Web 1.0, expanded into Web 2.0 and created the "New Relationship Economy" where relationships became at least as valuable as knowledge.
Internet innovation has not only changed how we work and where we work, but has affected how we relate to and connect with others. The New Relationship Economy expands the Knowledge Economy and adds a third basic concept to the two already so well-known: what you know, and who you know. The third concept – who knows what you know – changed how we work together and share information. We still have our special knowledge, yet it has become more important to network and inform others about what we know. LinkedIn is a great example of how we share our professional information to attract hiring companies, search for specific talents and skills, and more.
In short, the Internet has evolved rapidly as a nonhierarchical communication tool "flattening" the world. This "flatter world" has infiltrated organizations, contradicting the current hierarchical business models. It is time to integrate Management 2.0 in your leadership style.

Explore your level of Management 2.0 by taking our brief Management 2.0 Audit