Apple, Cake, and Skiing Wisdom: Optimism in the New Relationship Economy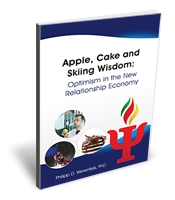 Although Apple, cake, and skiing appear as distinctly different concepts, each represents a crucial element in becoming a cutting-edge leader in today's business environment. You can fine-tune your power to thrive in the New Relationship Economy by reading this eBook. It offers strategies to implement in your daily routines to further expedite your career as an optimistic leader, and more consistently improve team and organizational performance.
The Internet has changed how we work and do business. Business has moved from the Knowledge Economy to the New Relationship Economy, in which relationships matter even more than knowledge. So, now is the time to learn more about influencing those relationships; to develop the crucial attitudes, systems, and skills needed to maximize your potential. Do that and you will live the satisfied, meaningful, and fulfilling life you've always imagined.